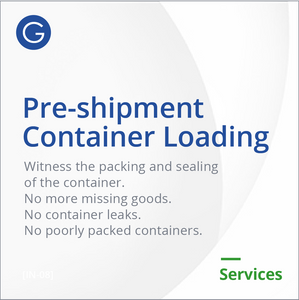 Simple.

 Free

.

Advice. No Obligations.

What to
expect...
Poorly packed containers damaged goods during transportation, rain through leaky holes causes water damage! Avoid quantity disputes with container seals and greatly improve your chances of successful insurance claims if something goes wrong!
INCLUDES:
Visual 7 point inspection system of; Container condition before loading,
Inspection for water leakage, Photo evidence of container packing method,
Witnessing of container sealing, Recording of container seal and container number.
What you need to prepare...
Requires 
your coordination and advance notice with your manufacturer, our team will assist with this.
Optional extras...
Onsite Pre-Shipment Final Inspection
Superb Job!
I'm very grateful for Coco and Jenny's wonderful help with order management. The timely communication was excellent, professional, and invaluable.
Looking forward to many more orders!
Cheers,
Lynn
Excellent support and servicing
Great support and makes sourcing and managing orders so stress free and reliable. Highly recommended
Production Manager Coco
My production process was not an easy one, with so many issues arising internally with my manufacturer and things happening in which I could've never known how to deal with on my own. However, my production manager Coco has gone above and beyond to make these things as stress free for myself as possible. I honestly don't know where my business would be without her as she has been so dedicated, passionate and truly invested in my production as if it were her own. I could not recommend her enough and I honestly wish I could do more to thank her for everything she has done. Could not recommend enough!
Kind regards
Sienna
Fantastic support from Global TQM
David, Joyce, Coco and the team at Global TQM were fantastic in supporting our purchasing details from a new supplier in China, as well as organising sample insepction. We were very happy with their support and are in the process of organising more products. Thanks team Global TQM!!!
AMAZING SERVICE AND FRIENDLY TEAM - WILL NOT DO BUSINESS IN CHINA WITHOUT MY TQM PARTNERS
I booked a pre shipment inspection with Global TQM and the amount of detail they completed with the assessment surpassed my expectation by a great deal.
The team on the ground is extremely responsive and are quick to get back to you.
Customer service is out of this world.
I have already booked another pre shipment inspection with the team.