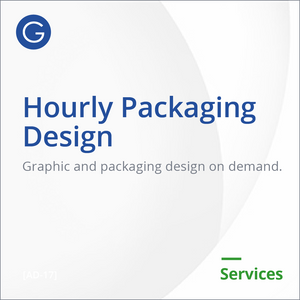 Simple.

 Free

.

Advice. No Obligations.

What to
expect...
Say no to boring, bland design. Your product needs personality! Get the eye-catching packaging design your product needs to stand out on the shelf or in your listing. including gift boxes, packaging visuals, instruction manuals, product sheets, pamphlets, landing pages, and more.
Please note, this is a 5-hour design package (with extra hours available as needed).
What can you realistically expect in 5 hours?
A 5-hour packaging project might include a basic gift-box design, a 5-page instruction manual, polybag warnings, rating labels, outer carton markings, with minor corrections.
A 5-hour product catalog project might include a PDF catalog with 6 products and custom branding and customized product sheets.
YOU GET:
A minimum of 5 hours of professional design (extra hours available as needed)
2 initial design concepts & color boards
All design materials & source files created during this project (These belong to you.)
Need more hours? No problem. We are happy to provide additional hours as needed.
Professional copywriting for your instruction manual is also available for an additional fee. Ask us for current rates.
TIME TAKEN: 3-7 days on average with time for feedback.
How it works...
1. Buy a 5-hour professional design package.
2. Send us the materials needed to deliver your concepts.

3. We collect your feedback and iterate on the next set of design concepts.
What you need to prepare...
A color brief
A die-cut from your manufacturer
Supplier product sheets & images
Reference examples for inspiration (if you have them)
Optional extras...
Extended 5-hour packages
Extended 2-hour packages
 Professional copywriting of instruction manual
Superb Job!
I'm very grateful for Coco and Jenny's wonderful help with order management. The timely communication was excellent, professional, and invaluable.
Looking forward to many more orders!
Cheers,
Lynn
Excellent support and servicing
Great support and makes sourcing and managing orders so stress free and reliable. Highly recommended
Production Manager Coco
My production process was not an easy one, with so many issues arising internally with my manufacturer and things happening in which I could've never known how to deal with on my own. However, my production manager Coco has gone above and beyond to make these things as stress free for myself as possible. I honestly don't know where my business would be without her as she has been so dedicated, passionate and truly invested in my production as if it were her own. I could not recommend her enough and I honestly wish I could do more to thank her for everything she has done. Could not recommend enough!
Kind regards
Sienna
Fantastic support from Global TQM
David, Joyce, Coco and the team at Global TQM were fantastic in supporting our purchasing details from a new supplier in China, as well as organising sample insepction. We were very happy with their support and are in the process of organising more products. Thanks team Global TQM!!!
AMAZING SERVICE AND FRIENDLY TEAM - WILL NOT DO BUSINESS IN CHINA WITHOUT MY TQM PARTNERS
I booked a pre shipment inspection with Global TQM and the amount of detail they completed with the assessment surpassed my expectation by a great deal.
The team on the ground is extremely responsive and are quick to get back to you.
Customer service is out of this world.
I have already booked another pre shipment inspection with the team.