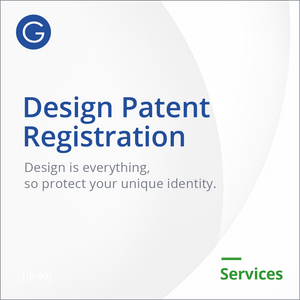 Simple.

 Free

.

Advice. No Obligations.

What to
expect...
Don't make it easy to rip you off! Protect your design with a Design Patent. It reduces the risk of copying manufacturers, retailers, and competitors. (Yes, this happens a lot.)
Having patented and patent-pending on your product and packaging also gives you a sales advantage with customers and distributors.
We will prepare and file your Design Patent for you.
The benefits of this come down to marketing and prevention.
Platforms, retailers, and manufacturers are deterred from copying your exact design
Claim patented or patent-pending with customers and suppliers, almost immediately.
INCLUDES:
Registration of one design patent, which is valid for 10 years (nonrenewable), annual fees are required.
Translation of Business Registration Certificate from English to Chinese as required by China,
Translation of Priority Documents (if any) from English to Chinese as required by China.
TIME TAKEN: Approximately +15 days for initial registration lodging
What you need to prepare...
Requires you to provide drawings picture or renderings of your product from 6 + 1 angles
It requires you to understand the benefits and limitations of design patents and the cost of enforcing them, as well as the success rate of enforcing them.
Optional extras...
We can provide a quote to create or modify technical drawings if required to meet the patent office standards
Complicated process made very easy.
Jenny was great in leading me through the trademark process. She made what felt like a complicated process very easy. Thank you.
Paul W. Patent, Product sourcing & Concierge
Hi David, I hope all is well and thank you for the opportunity to submit this review.
I am extremely happy with Jenny and I am very happy with Whymon.
I would like to say that this is my first time for almost everything I do in this type of business.(I am a novice & you guys are experts)
Therefor I would like as much guidance & input as possible from you guys.
Of course, the decisions are up to me, so I want to make those decisions based on as much expert input and advise as possible.
So far this has been a great experience.
Looking forward to the call :-)
regards
Paul
Really happy I got this service!!
Working with GlobalTQM made everything easier and I learned so much.
Thank you Jenny & David. Looking forward working with you guys again!
Very good
From start to finish, the amazing staff helped me through the process and made it seamless. Highly recommend Global TQM.
Really happy I got this service!!
Thanks Jenny for reviewing all my documents and helping me translate! Looking forward working with you again!